Company
President's Message
Houwa's Technology Supports the Quality and Safety of Food
Houwa Engineering has supported its customers for many years in the area of air-conditioning, refrigeration, and freezer technology.
In particular, as the Japanese population's consumption of bread increased in the post-War years, we have accumulated a wealth of technology in the area of bread-making plant. In those years, we have built an extensive track record of installation of temperature and humidity control systems for fermentation chambers, ingredient water supply equipment, brining equipment, bread coolers, factory ventilation systems, and other equipment for bread factories.
In an age in which more importance than ever before is being placed on the quality and safety of food, we will continue our efforts to refine our technology that will support our customers.
President

Yuji Nagaya
Company Profile
Company Name
Houwa Engineering Co., Ltd.
Founded
April 1965
Representative
Yuji Nagaya
Head Office
5-10-18 Kanayama, Naka-ku, Nagoya, Aichi Prefecture, 460-0022

Tel:

052-882-3140

Fax:

052-882-3144

Tokyo Office
102, 1-1-4 Kanamori-Higashi, Machida, Tokyo, 194-0015

Tel:

042-710-8506

Fax:

042-710-8518

Fukuoka Office
1, 577 Kaminofu, District Shingu Town, Fukuoka, Prefecture Kasuya

Tel:

092-692-7009

Fax:

092-692-7010

Chinese Subsidiary
朋和(上海)机电技术有限公司
Houwa Engineering (Shanghai) Co.,Ltd.
邮编:200051
地址:上海市长宁区天山路600弄2号 捷运大厦7楼D室

电话号码:

021-3220-0731

传真号码:

021-3220-0923

Capital
¥30 million
Annual Turnover
Approx. ¥2 billion
Number of Employees
Approx. 40
Business Description
Design, installation, and maintenance of bakery and food manufacturing plant machinery, air-conditioning equipment, thermo-hygrostatic equipment, industrial heating and cooling equipment, freezer and refrigeration equipment, supermarket showcase equipment, energy conservation and environmental equipment, water supply and drainage sanitation equipment, automated control, fire extinguishing equipment, etc.
History
| | |
| --- | --- |
| April 1, 1965 | Company is established with a capitalization of ¥3 million in Suhara-cho, Showa-ku, Nagoya. |
| June 1974 | Capital is increased to ¥20 million. |
| November 1989 | Minister of International Trade and Industry award, high-pressure gas sales, disaster prevention |
| March 1990 | Construction of new company building complete. 3 stories, total floor space 919.3 m2 |
| September 1991 | Capital is increased to ¥30 million. |
| November 1996 | Ministry of International Trade and Industry Machinery and Information Industries Bureau Award |
| October 2001 | Minister of Economy, Trade and Industry award (high-pressure gas safety) |
| April 2015 | 50th anniversary of foundation |
| January 2017 | Established Chinese subsidiary |
Access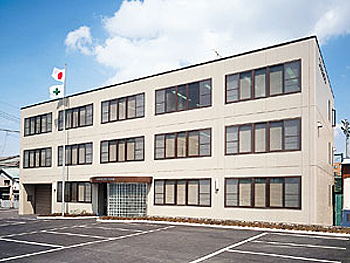 5-10-18 Kanayama, Naka-ku, Nagoya, Aichi Prefecture, 460-0022
Tel:

052-882-3140

Fax:

052-882-3144